begins in 2013 along the "Via Emilia," the ancient Roman road which opened up the vast agricultural areas of northern Italy to the rest of the world and that now represents the beating heart of the most authentic Italian artisanal food creation.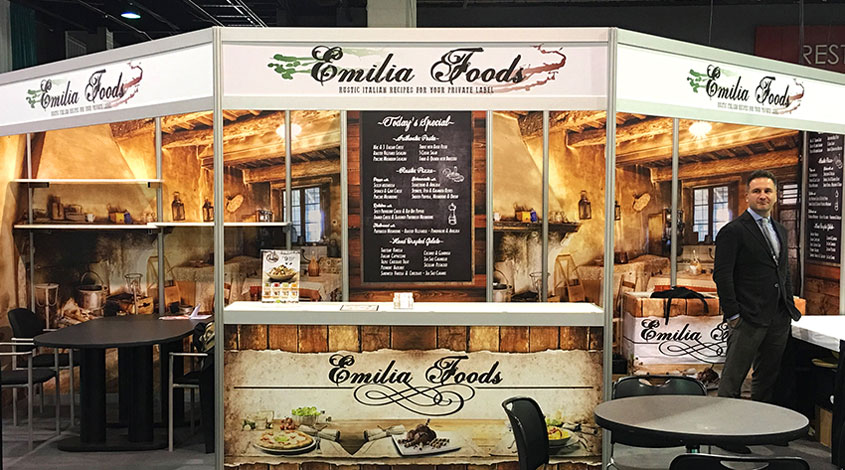 Emilia Foods is born
In 2013 Emilia Foods is founded by Ivan Manfredi, who by this time had already attained years of experience in the world of Private Label and noticed a need to establish an Italian company that would offer a high-class and personalized service to international clients that are interested in the gastronomy of the region and the quality of its products.

Giant baby steps
In 2014 we acquire our first large contract with Whole Foods Market to produce a line of Premium Gelato. The line consisted of 6 flavors of traditional all-natural Italian Gelato, Chocolate, Hazelnut, Pistachio, Sea Salt Caramel, Eggnog, and Limoncello.

Building trust
In 2015, after having achieved great success with the Gelato line, WFM entrusts us with the production of one of its best-selling ready meals and an American classic; the Mac & Cheese. USDA Organic certified and in individual tray format.

It's a whole new world
Via Emilia, our house brand, is born in 2016 and immediately enters Costco USA with what has been one of our best-selling products to date, the Organic Riced Cauliflower, which comes in Club format, including 4 microwavable 16oz inner bags.

Sweet home Modena
The company grows rapidly, and in 2017 it moves to a new office in the heart of Via Emilia in Modena. What only 4 years ago had started with only 2 people, it now had 20 and continued to expand.

You want it? You got it!
An innovative new item is launched at Costco USA; the Zucchini Spirals. In record time, Emilia Foods manages to respond to a market demand that asked for a convenient and swift method to cook what was once the number 1 kitchen trend in the United States.
Summer vibes only
Emilia Foods North America is born with its headquarters located in Miami, FL. The objective of these new operational headquarters is to continue improving the service to our clients in the USA, CANADA and LATAM.

No meat, no problem
Our Via Emilia brand is the first in Italy to launch a plant-based burger on the market, subsequently a whole line of alternative products to meat is launched both in Italy and in various European markets.

From Italy to the world
In 2021 Emilia Foods is present in more than 20 countries and implements an International ERP System to improve its operational management. This same year we launch in the North American and European market a completely revolutionary dessert; the Italian Gelato Macarons.

Building the future
In 2022 Emilia Foods acquires a new 1000 square meter production plant in Modena that will be dedicated to carrying out production trials of innovative products. The plant will also have an internal R&D Laboratory and will function as office space.

New Home, new chapter
In 2023 Emilia Foods enters a new and important production phase. The new headquarters will have 1000 square meters for the production of gluten-free strategic references. Among them, a line dedicated to the production of fresh frozen pasta and vegetable-based frozen stuffed pasta, as well as a line of sauces for frozen prepared dishes suitable for different needs and in line with food trends.